Robert Eglet is a senior partner, AV-rated trial lawyer and lead trial counsel at Eglet Prince. Among the many top honors he has received in the field of trial law, the most notable are National Trial Lawyer of the Year (2013) by the National Trial Lawyers Association (NTL), National Lawyer of the Year (2010) by Lawyers USA and Trial Lawyer of the Year (2005, 2012) by the Nevada Justice Association (NJA) – the only lawyer in the state of Nevada to ever receive this honor more than once. Robert has tried over 100 civil jury trials and won more multi-million dollar verdicts (resulting in billions of dollars for his clients) than any other lawyer in Nevada state history, as well as the largest personal injury verdict in America (2010, 2013) being awarded $505 million and $524 million respectively – he is the only personal injury lawyer to ever have the largest personal injury verdict in America twice. Thus far, Robert is recipient to 4 of the Top 40 verdicts in America (years 2007 – 2012).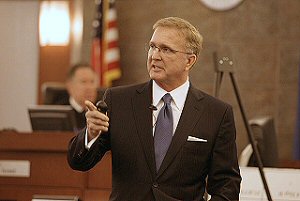 As a member of the National Trial Lawyers Association's Round Table, Robert Eglet is considered to be one of the top 100 most influential trial lawyers in America. Most recently, his Las Vegas law firm Eglet Prince, was recognized by the National Law Journal as one of the top 12 plaintiffs law firms in the United States. Eglet Prince resides within The Robert T. Eglet Advocacy Center located in downtown Las Vegas, and houses one of the country's most technologically-advanced courtrooms designed specifically for the training and development of trial lawyers. Robert Eglet routinely lectures to numerous trial attorney organizations and bar associations around the country on trial practice with a particular emphasis on jury selection. Robert has written numerous articles on the art and science of jury selection and may be best known for changing the manner in which jury selection is conducted in civil cases in Clark County, Nevada. Now Eglet has partnered with top application developers and data scientists to develop an extraordinary high-tech tool designed to help trial lawyers analyze and select jurors allowing them to gain the edge needed to win larger verdicts for their clients.
AV-rated Trial Lawyer in Las Vegas
AV-rated: AV-rated is an AV Peer Review Rating. It is a recognition for lawyers whom reach the height of professional excellence having usually practiced law for many years, and are recognized for the highest levels of skill and integrity.