[vc_row][vc_column][vc_column_text]Robert Eglet is a senior partner, AV-rated trial lawyer and lead trial counsel . Among the many top honors he has received in the field of trial law, the most notable are National Trial Lawyer of the Year (2013) by the National Trial Lawyers Association (NTL), National Lawyer of the Year (2010) by Lawyers USA and
Trial Lawyer of the Year (2005, 2012)
by the Nevada Justice Association (NJA) – the only lawyer in the state of Nevada to ever receive this honor more than once. Robert has tried over 100 civil jury trials and won more
multi-million dollar verdicts
(resulting in billions of dollars for his clients) than any other lawyer in Nevada state history, as well as the largest personal injury verdict in America (2010, 2013) being awarded $505 million and $524 million respectively –
he is the only personal injury lawyer to ever have the largest personal injury verdict in America twice
. Thus far, Robert is recipient to 4 of the Top 40 verdicts in America (years 2007 – 2012).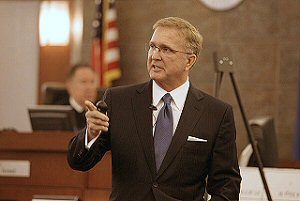 As a member of the National Trial Lawyers Association's Round Table, Robert Eglet is considered to be one of the top 100 most influential trial lawyers in America. Most recently, his Las Vegas law firm Eglet Prince, was recognized by the National Law Journal as one of the top 12 plaintiffs law firms in the United States. Eglet Prince resides within The Robert T. Eglet Advocacy Center located in downtown Las Vegas, and houses one of the country's most technologically-advanced courtrooms designed specifically for the training and development of trial lawyers. Robert Eglet routinely lectures to numerous trial attorney organizations and bar associations around the country on trial practice with a particular emphasis on jury selection. Robert has written numerous articles on the art and science of jury selection and may be best known for changing the manner in which jury selection is conducted in civil cases in Clark County, Nevada. Now Eglet has partnered with top application developers and data scientists to develop an extraordinary high-tech tool designed to help trial lawyers analyze and select jurors allowing them to gain the edge needed to win larger verdicts for their clients.
On October 1, 2017, Las Vegas suffered a major tragedy when a crazed gunman, Stephen Paddock, opened fire from Mandalay Bay onto a crowd of people at the Route 91 music festival. 59 people were killed and over 500 were injured in the mass shooting, the deadliest in U.S. history. Robert Eglet and his firm, Eglet Prince are now facing this very delicate issue as this tragic and deadly event happened in their own backyard and Mr. Eglet's hometown.  
On Oct 11, attorneys at Robert's firm, Eglet Prince along with The Brady Center to Prevent Gun Violence filed a class action lawsuit against manufacturers and retailers of bump stocks (an aftermarket part added to a gun that turns a semi-automatic gun into the functional equivalent of a machine gun) on behalf of the victims of the Las Vegas mass shooting. This is big news and there will be undoubtedly a lot of time and preparation that will have to go into a significant case like this, as it represents many people whose lives have been terribly affected by this tragic event.
In order to prepare for a lawsuit of this caliber, it will be very important for all the plaintiff lawyers involved, from our clients and colleagues including Robert's firm Eglet Prince, Brian Panish of Panish Shea & Boyle LLP, Morgan & Morgan. These are just a few of the firms that will also represent the plaintiffs in this case. It will be crucial for all lawyers to pool their resources and work together for a common goal. One of our main objectives at July Analyst, a division of LitiBit Corp., is to create a central depository of actionable resources for plaintiff lawyers to share. Created by plaintiff lawyers, this central base of information holds the collective knowledge, experience, and case-relevant research data for a multitude of cases and trial outcomes.
At LitiBit Corp., we have a way that now offers our most award winning clients and friends in the plaintiff world an efficient, strategic, and statistically sound method to approach trial preparation to arm trial lawyers with the critical information needed to increase their case win potential.
Our intention is to help all plaintiff lawyers, on any case they take to trial, understand the jury, their propensity toward bias, and to get a true understanding on their sentiments of a case. In the situation like the upcoming class action suit on behalf of the Las Vegas shooting victims, seeing as it's such a delicate case, having a large jury pool of local jurors in the jurisdiction to pull from is crucial. Equally as critical is having accurate and true-to-life potential juror demographic ratios based on the venue. In case preparation, we offer these strategic advantages to our clients to focus group case themes, arguments and provide plaintiffs lawyers with an exceptionally large sample size for a more statistical accurate case outcomes.
We at Jury Analyst will assist lawyers in understanding the jury dynamics and local sentiment towards the case to assist in their case preparation. The turnaround time to get these trial attorneys the information they need is important. Our virtual focus group research will provide comprehensive reports detailing responses and real-time statistical results of the potential jurors in your virtual focus group.
What you obtain in the end is a large sample size for more accurate results and quick turnarounds. These are critical to winning large cases like this.
Sign up today and take part in our virtual focus groups to help victims and injured parties involved in the shooting massacre. Limited spots available.
AV-rated Trial Lawyer in Las Vegas
AV-rated: AV-rated is an AV Peer Review Rating. It is a recognition for lawyers whom reach the height of professional excellence having usually practiced law for many years, and are recognized for the highest levels of skill and integrity.[/vc_column_text][/vc_column][/vc_row]